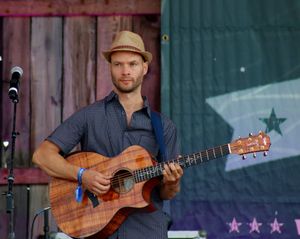 It's been a great 4 years on the road with this guy, and we have had so much fun having him as part of the band. Federico has decided to stay closer to his family, and will be retiring from his position with PMG. He has been a great friend and bandmate, and we want to thank him for his dedication and hard work that have enabled us to play for so many of you over the past 4 years. 
The band will still be appearing at all of our upcoming dates, but you may see some new faces on stage as we have guest artists filling in while we search for a permanent replacement. (If you know of someone who may be interested in the position, please have them contact us via poormansgambit@gmail.com) 
It won't be the same without Federico, but we're excited for this next chapter of the band and the possibilities of what's to come. We have some big shows and several cross country tours coming up, so stay tuned!